OUR STRENGTHS & FOCUS
"We are what we repeatedly do. Excellence then, is not an act, but a habit."
- Aristotle
STATESIDE's commitment is to operate a growing, profitable and ethical company. A company dedicated to bettering our investors, our employees, and our communities. A company with a clear focus on creating a trustworthy, honest and nurturing environment for all of our stakeholders while maximizing the potential return on the exploration of oil and gas in Western Pennsylvania's Bradford Sands.
Under the leadership of Bobby Pastorius and Patrick Janin, Stateside strives to deliver above average returns with best in class tax benefits for our investors and, at the same time, mitigating all risks that are within our capabilities.
At the forefront of Stateside's success are its people. We ensure that the right people with the right values are in the right roles—and have the authority to make sound decisions. Each of our expert team members brings an important skill set that makes a vital contribution to our overall mission.
We are devoted to being ecologically and environmentally responsible not because it is legally required, but because we believe it is the most conscientious and most profitable way to conduct our business. These responsibilities are at the core of STATESIDE's nature.
OUR PROCESS - FORGE™
"Manage the process and results take care of themselves."
– Anonymous
We approach every new project using FORGETM, STATESIDE's modeling system.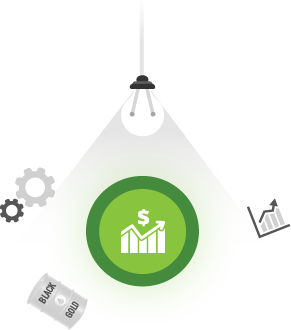 Financial
Our financial focus is on value creation and robust cash flow generation
" My Formula for Success? Rise Early, Work Late, Strike Oil."
- J. Paul Getty
Operational
Execution is the discipline of getting things done. Without a strong operational plan there is no point in deploying capital.
Together, Everyone Achieves More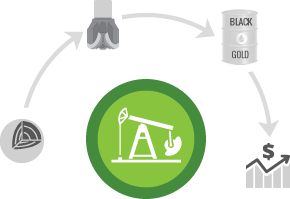 Risk
Risk comes primarily from not knowing what you're doing. The FORGE™ process regroups all potential controllable risk in a matrix, which allows us to evaluate and gauge our risk profile.
"Risk comes primarily from not knowing what you're doing. "
- Warren Buffet.
Geology
We look for significant inventory of high quality, low risk, oil focused development leases.
" First look at the size of the prize and then the risk involved
- Geology first, Economics second."
-R.E Mcgill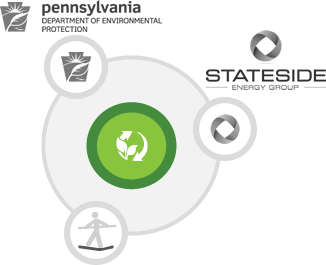 Environmental
We meet with the Department of Environmental Protection on every one of our projects to fully understand all existing or potential impacts.
" A century ago, petroleum- what we call oil - was just an obscure commodity; today its almost as vital to human existence as water."
- James Buchan
OUR COMPLETED PROJECTS
Stateside has been in business for 11 year and has drilled 75 wells in 16 drilling programs all programs had tax benefits. We have enjoyed a 100% success rate at finding economic volumes of Oil and or Gas without ever drilling a dry hole.
100% Success in Finding Oil and /or Gas
Project
Year
Completed
Revenue
Tax
benefits
Wells
Oil
Gas
NGL
State
County
Dry Hole
Plugged or
Abandonned
EMPIRE 1
2019
4
NY
Cattaraugus
LIBERTY

16

2016
9
PA
MCKean
LIBERTY

15

2015
7
PA
MCKean
LIBERTY

14

2015
7
PA
MCKean
LIBERTY

13

2015
5
PA
MCKean
LIBERTY

12

2014
7
PA
MCKean
LIBERTY

11

2014
5
PA
MCKean
LIBERTY

10

2013
5
PA
MCKean
LIBERTY

9

2013
4
PA
MCKean
LIBERTY

8

2013
5
PA
MCKean
LIBERTY

7

2012
4
PA
MCKean
LIBERTY

6

2012
5
PA
MCKean
LIBERTY

5

2012
3
PA
MCKean
LIBERTY

4

2011
6
PA
MCKean
LIBERTY

3

2010
4
PA
MCKean
LIBERTY

2

2009
3
PA
MCKean
WHAT OUR INVESTORS SAY
I've never encountered a company that conducts itself with such honesty and integrity. Stateside even discouraged me from making as big an investment as I initially wanted and advised I should wait and diversify my portfolio by investing later in future fields. I consider them my oil and gas partners and have even discussed other projects with them.
I had concerns about the environmental impact of drilling oil wells in such a beautiful area so Bobby personally drove me around the field (which was in the middle of a forest). I was able to inspect their existing wells and see exactly where my wells would be drilled. Stateside not only takes obvious pride in the quality of its work, but is also extremely respectful of the environment. The way they reclaim land is impressive and there is a minimal negative environmental footprint.
I'm one of those people who are extremely averse to taking risks of any kind. I always do an exceptional amount of due diligence before making any kind of investment. I have to say that I've rarely encountered a company that has been so open and transparent—a company that didn't hesitate to provide clear and concise answers to all of my questions.
Risk Averse
Eric K, Partner of KOIL, LLC
My wife and I are both high-income earners, so from day one the tax benefits and monthly cash disbursements made our investment a no-brainer. But Stateside more than showed its expertise when oil prices dramatically dropped in 2014. The company was incredibly innovative creating and positioning programs to capitalize on the tax benefits upfront while deferring potential income for when we hope the price will rebound.
Everyone at Stateside went out of their way to give us personal attention. They worked hard to understand our personal needs and even harder to meet those needs. We couldn't have been more impressed and highly recommend the company."
CURRENT STATESIDE PROJECTS
Please find below details about our current project(s). We also create projects specifically to investors, family offices and investment companies that want complete control over the extraction decisions to better control their economic returns.
Empire 1 Project

INTERESTED IN INVESTING?
Close